Technical Facts About Newsletter Distribution for Online Merchants
There are many different aspects to consider when distributing a newsletter to clients of your online store: categorization, definition, content, legal conditions and technical facts. In this post, I'll concentrate only on the technical aspects.
Newsletters are emails containing information or promotions that you, as a shop owner, wish to send to your registered customers. In some countries, the newsletter recipient has to explicitly agree to receive such information through a checkbox or the so-called "double opt-in" method.
Email Format: HTML or Text
As you may know from your email client, you can choose whether (newsletter) emails should be sent in HTML or in plain text format. Usually, you will use HTML to mark up your text content as bold, italic or underlined, to use tables or to display images. This is not possible in plain text emails at all and it also depends on whether the recipient's email client is configured to receive text or HTML emails. Thus, the MIME format was created, which sends along both text and HTML formats in the same message. Plain text will be displayed for recipients who only allow text emails, and HTML will be displayed for everybody else.
Transmission Agent: SMTP or Sendmail
Sendmail is a standard email transfer agent (client) for Unix-based systems that can be triggered by other clients on the same system to send email messages. You can install it on any arbitrary Linux machine of your choice and send messages from this server. However, it's important to note that these days, all messages sent via this method will typically end up in the Spam folder of your recipient's email client or may not even be forwarded by the server in between.
SMTP as a server protocol, is supposed to be a more secure solution. In most cases, the SMTP server accepts email forwarding requests coming only from localhost (the server where your online shop is hosted). Using an SMTP server on another system is nearly impossible as this SMTP could be misused as an email relay.
Filter Lists: Don't Think Only Black and White
To avoid email spam, many different mechanisms have been developed during the last few years. One of them is the black-, white- or grey-listing method. A blacklisted server or IP range on the recipient's machine, for example, is barred from delivering emails to the recipient at all. In the past, providers for black, white and grey lists developed and these lists are used by regular ISPs and hosting service providers.
If the server of your hosting provider has been blacklisted, you can assume that none of your emails will reach their intended recipients. Most professional email marketing providers by the way, have contracts with these list providers to ensure they are whitelisted and can transmit large amounts of email ;).
Grey lists cover everything in between. If you are not on a blacklist or on a whitelist, a filter on the recipient's Website will put your email into a queue and check for other spam indicators (like content). If this queue gets too many requests at a certain time, your email might take a few hours or even days to be passed through to the recipient.
Email Transmission Tools
Newsletter emails, even to a large number of recipients, can be send via various email client applications and servers. You have wide choice depending on your given circumstances in respect of the above technical facts. Let me introduce you to some of the options.
Standalone Client Programs
It is possible to send multiple-recipient emails via an email client like Mozilla Thunderbird or Microsoft Outlook. For data privacy, you must ensure that none of your clients can see other email addresses in the message: add yourself to the TO field while putting a list of your newsletter subscribers in the BCC field. Avoid using CC (from my own experience :-)).
As far as I know, an Exchange server will accept 200 recipients with one dispatch. Also, under this method, it is not possible to enrich the content of your email with dynamically generated data.  For example, it won't be possible to inform your clients about cross-selling products on the basis of their previous purchases.
Integrated Shopping Cart Solutions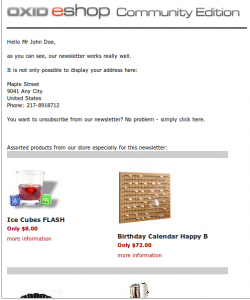 This is differently handled in shopping cart solutions, as they usually provide the ability to send email newsletters to opted-in customers and also to enter product data with the newsletter. Using this option, you can define personalized content using the order history of each costumer. For example (independent of any legal requirement), you could ask Mrs. Meyers for a review of the suit case "Canoono I Pak Classic" she bought on August 16th 2011, promising to raffle off a voucher of 100 EUR for the most inventive review. It's great technology, but you must be careful that you don't end up on a blacklist somewhere…
The OXID eShop newsletter feature can help a little bit here as it sends out newsletters in batches (number adjustable from the admin panel).  But at the end of the day, every newsletter transmission could be misunderstood by your hosting service provider, by list providers as well as by the recipient's servers. In short, if you have too many recipients with too much similar content, it is time to begin thinking about using a professional, whitelisted email marketing provider.
Unfortunately, I can't tell you the "magic number" of newsletters that will work properly from your shop server as I think it depends on your hosting provider, your monthly newsletter frequency and the number of newsletter recipients.
Open Source Scripts
There are a number of  scripts (some open source) that can apply to the same needs. However, they too will break down when faced with black- and grey- lists.
Summary
As your customers grow in number, you certainly will have to think about a professional (white listed) solution for your newsletter emails. This solution should ideally provide an interface to your shopping cart to compute the opted-in addressees as well as product items and order details. There are already a number of solutions available but there should definitely be more… right? 🙂
Please write to the email marketing provider of your choice and ask if they provide an interface to OXID eShop. Also, please feel free to contact me personally – I would be happy to support you from this end with contacting the channel marketeers of those services.