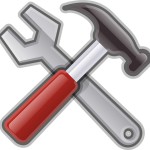 This is just a short note to let you know that there's a new page available at OXIDforge with a software development kit for OXID eShop.
Presently you may find links to helping tools like coding standards, easy shop installation (thanks to @tabsl), module writing, testing and module certification on this page. Other tools, as announced at the last OXID Commons Unconference, will follow step by step.
If you wrote one or several tools by yourself and want to share them with the community, please feel free to add them to this wiki page.
Please note that this page is not intended to be a documentation nor tutorial. It is just a collection of links to the most useful developer tools available under an open source license.