A Fantastic Pre-Christmas Week in Freiburg
I am back at my desk and looking back on a very successful week, full of memorable impressions.
As you may know, OXID has branch offices in Halle, Saale in Germany and Kaunas in Lithuania while our HQ is based in Freiburg, Breisgau (Germany). Last week, all the teams came together when the Kaunas and Halle staff came to Freiburg for an entire week. Can you imagine how great it feels to come face to face with the men and women that you have been working with remotely for some time? Awesome…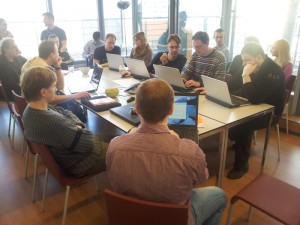 … and outstandingly productive as well!
Most of the time together was spent on meetings that we've been looking forward for a while. For example, we did a review of the next-to-last sprint before the release of OXID eShop 4.6.0 beta. The core developers introduced the implementation of the new features, their default appearance in the store front and their operation from the admin panel. The guys from support, sales and marketing took part to understand the new features.
We also defined new and improved information flows: what information is needed from the development team and how does it get to the marketing, sales, support, community communication and documentation teams. We also discussed about the theory of the scrum development method and how we can use it (more about this soon on our official blog). Additionally, the developers took part in a workshop with Kore Nordmann from Qafoo and discussed rough plans for OXID eShop 5.0.
Lots of work…so at the end, we thought we deserved a Christmas party! On Friday, we took a walk through the night with torches in our hands to St. Ottilien, had a perfect dinner there (the meat and the seafood were overwhelming, no vegetables were needed) and continued our party until late in the night.
The climax of the party was definitely the game played by four of our Lithuanian mates: they auctioned their hair off, hilarious! But instead of going completely bald, some hair was left to display the letters O – X – I – D on their heads. That's what I call "commitment". I just hope those guys got back home without being killed by their wives 🙂
The only thing left to say: It was good to see all you guys personally. Thanks for the very funny and very productive week in Freiburg!