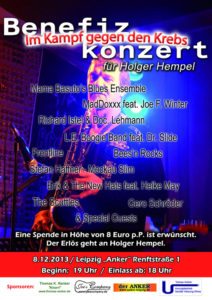 Holger, one of Leipzig's most empathetic saxophone and keyboarder players, and a good mate of mine is suffering from cancer quite recently. In a spectacular campaign on Facebook, his friends are about to organize a concert
on December 8th
at the club Anker Leipzig
The revenue from the entry fees (8 EUR) will help to pay for the raising costs for his therapy. In the mean time, the concert twists into a kind of Woodstock festival, as the bands (mostly Leipzig) have that vibe, plus special guests.
Here's a list of the bands participating:
Save the date and get your musical boogie buttocks off of your couch! Help save Holger's arse as well (literally & not funny), and experience the magic of the still existing East German Rock/Blues scene.
If you can't afford to come to this event, @Knorri set up a special bank account for donations. Thanks for being openly generous!
Account holder: Thomas Renker (@Knorri)
Account# (IBAN): DE33860800000700777200
Bank code (BIC): DRESDEFF860 (Commerzbank Leipzig)

(Should work for all money transfers in and outside Germany and the EU.)
Looking forward to the concert, also being optimistic about Holger's recuperation through his therapy.