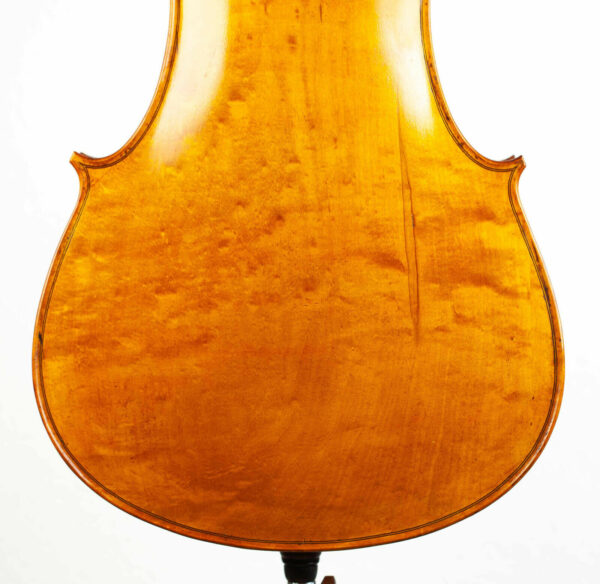 Yet another fraud attempt via Ebay and Quoka
My wife came home asking me for assistance, if this was a serious offer:
She saw a bid on ebay for a 7/8 cello initially for 900 EUR and bid along. She lost this bid at 1.430 EUR. In the mean time, this site was gone and not available to the public any more.
The bid was about a cello by the Italian violin maker, Ettore Soffritti, built between 1923 and 1927. My wife said that colleagues of hers were lucky bidding on such instruments sometimes, as the owners found it on their attic and don't know how to use it nor what it is worth.
Some days later, the pictures for the same instrument appeared quoka.de so she got in touch with the seller (@_Schroder) which apparently resides in Zirndorf (closed to Nuremberg) via the Quoka PM services.
The seller answered to her e-mail address in German, sending along his alleged ID card of the person "Maria Concepcion Nuez de La Fuente":
The price is 1750 euros. If I have aroused your interest, please let me know where it is (postcode and town) so that I can calculate the shipping costs. I will take care of the shipping. I'll let you know after I find out how much it will cost. I look forward to your reply.
Thank you,
Maria
My wife answered briefly with our snail mail address via e-mail.
Now alleged Maria came up again (in German) via e-mail:
Hello,
As I have everything here in Spain, I don't think I could personally pick it up for you here. Maybe only if you happen to be here in Spain or if you have a friend here who can buy it for you. Calle la Seguidilla, San Cristóbal de La Laguna, Santa Cruz de Tenerife, Spain.
The unit is technically and visually in perfect condition! As I said, I will pay the shipping costs. To start the delivery, I need your full name and the address where you want to receive the package.
I use Quoka payment services to pay, and for your security I provide my ID and address. After the payment is made, I ship it with DHL, and the delivery takes no more than 2-3 days.
A refund is also available, if you are not satisfied you can send it back and the money will be refunded to your account.
If you agree, please provide your confirmation, full name and delivery address so that I can arrange delivery.
Yours sincerely,
Maria
So I took a look at her ad (sorry, I didn't take a screenshot and the ad is not longer available), and some things became really interesting:
Why is she using the same pictures as on ebay before?
Why is she starting to talk about a cello in her product description and uses "fiddle" in the end?
Why is the seller new on Quoka and doesn't have any other product to sell?
Other questions:
Why did "Maria" send her passport scan unsolicitedly?
Why did she answer via e-mail instead of using Quoka PM?
Why did she insist in taking over the delivery costs? And – this is well-known – she talks about 2-3 days delivery as it is much longer from Fuerteventura via DHL to Germany, isn't it?
Quoka.es doesn't exist, it seems to be a German-only marketplace. Why would she utilize it?
What is she talking about quoka payments as quoka paymants apparently do not exist?
Why is she using the term "item" for a beautiful instrument?
Additionally, we tried to reach Maria Concepcion Nuez de La Fuente on Linkedin to ask her if her ID card was stolen. Unfortunately, she didn't answer yet (as she might not be that internet prone…)
Also, it was very helpful to visit these Quoka pages (sorry, German only):
With other words, I said: "Baby, please do not transfer any money, I don't trust it, it is a very vague business, although the chance seems to be too good to be missed.
At the end of the day, my wife uses quoka PM to ask if it was not possible to pick the instrument up in Zirndorf. She gets an answer in Hungarian language: "As I told you, I am based in Spain!" That's it. Ad is reported to quoka, ad removed by quoka.
I admit, that this was a really good trick and maybe nobody not used to be in Internet affairs might have seen this. Thanks to my wife, she's just had a bad gut feeling.
Stay safe!