Dear friends,
actually I wanted to manually send signed Christmas cards to the most distinguished community members and friends. But they took a very long way from our headquarters in Freiburg to the office in Halle and only arrived yesterday. Not enough time left to give them the time to arrive punctually, especially thinking of foreign addressees.
So here they are: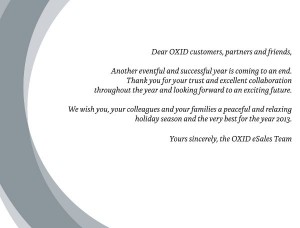 Merry Christmas and a Happy New Year!
Have a nice and relaxing holiday season after this very hectic Christmas trade. A lot of really fascinating things happened in 2012 in the community, just thinking of the OXID user group NRW. May 2013 will be as successful as 2012 was and even more so.